Event Detail
Back to Events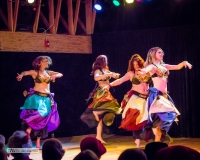 Education :: Classes also Art :: Dance
Intro to Belly Dance class at Starbelly School of Dance
8:00 PM
Starbelly School of Dance
Description:

Come learn the fun art of Belly Dance at Boise's premier Ethnic Dance school, Starbelly School of experience needed. We will be learning the basics of proper technique for foot patterns, hips, chest, shoulders & arms. No other requirements. 8 week course. . Instructor Cecilia & Chad Rinn (60 min. $50.00 a month/ $90 session)-Wed. 8-9pm * Class Starts Jan.8th
Register for classes here http://starbellyschoolofdance.com/registrations/12-week-session/
Frequently Asked Questions:
Who can take belly dance classes?
You! If you are over the age of 14, and want to learn to the art of Middle Eastern Dance, that these classes are for you! We happily accept all sizes, shapes, colors, and genders in our belly dance classes.
Do I have to show my belly?
No. You never have to show your belly in class or otherwise. But if you want to you certainly can.
Do I have to perform?
No. You never have to perform. But if you would like to, there are opportunities at any or all of the 4 "Starbelly Student Salons" we put on every year.
What do I ware to class?
Stretchy pants, shorts or leggings. For women, a supportive sports bra, and tight fitting stretchy top. Hip belts are available at class to borrow or purchase. Bare feet, or socks. *No coin or loud hip belts allowed. Please bring water.
Do I need to know how to dance? Do I need to lose weight, or get in better shape before I start?
No.No. No. In class you will be learning to dance, while you get in better shape, and encourage weight loss. You will also be learning that you are perfect just the way you are right now. All you need to do is show up, the rest I will take care of, promise. Belly Dance is a way to celebrate all of our unique and vital beauty. Come celebrate with us! Register Today!


Cecilia Rinn has been belly dancing professionally since 1995. Before falling in love with Middle Eastern dance, Cecilia studied ballet, modern, jazz, a little flamenco, and choreography for 18 years. Cecilia has performed as a featured dancer across the country. Cecilia has been a judge at the prestigious fusion belly dance competition, "Hybid", three years running at "Fusion Fest" where she is also a featured performer, along with producing and staring in The Big Bad-Ass Belly Dance Show for the last 5 years. Cecilia embodies the passion & joy of belly dance. Cecilia is sought after instructor, and teaches classes and workshops both locally (Boise, Idaho) and nationally with her belly dance school "StarBelly School of Dance" including her professional and an apprentice group the "The Starbelly Dancers".

Advertisement
Links: http://starbellyschoolo.....ance.com/registrations/

Age Group: 18+

Venue: Starbelly School of Dance

Address:
1524 S. Vista Boise, Idaho 83705
Get Directions
Phone: 2088916609