Event Detail
Back to Events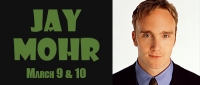 Art :: Comedy
Headliner: Jay Mohr
8:00 PM
Liquid Laughs Comedy Club
Description:

Comedian, actor, radio host and best selling author, JAY MOHR! He's been performing stand-up comedy since he was sixteen years old. With a career that has spanned over three decades, Jay has become an artist that is very difficult to define. Never wanting to rest on his accomplishments, Jay has always pushed himself to be more than just a comic.

After landing his dream job on Saturday Night Live, it appeared as though Jay had reached the height of comedic success. Little did he know that just three years later, he would be cast opposite Tom Cruise in Jerry Maguire and that same year co-star with Jennifer Anniston in Picture Perfect. Now the world that knew "comedian Jay" was quickly introduced to the "actor Jay." Never wanting to choose one career over the other, Mohr has brilliantly balanced both acting and stand-up comedy as roommates in his brain.

In the radio world, Jay now hosts the nationally syndicated daily Jay Mohr Sports as well as a regular contributor on the highest rated radio shows in the country, with multiple stints on Kevin and Bean and Opie and Anthony... just to name a few.

Jay has guest starred in over 50 different television dramas and comedy series episodes, but his most recent turn on an episode of Dick Wolf's Law and Order: Criminal Intent as a Charlie Sheen type character ripped from the headlines, has garnered him the most attention and respect. "He's really good" said Wolf, "it's kind of odd because he is known as a comic and this is a highly dramatic role that a lot of dramatic actors would have had a very hard time eschewing and he does a great job." He added "... you know, it's like if you're playing tennis against a club champion, you're game should go up... the better the competition the better the game... and I think Jay really came to play."

Throughout his journey, Jay still loves performing stand-up comedy it's in his blood, his bones and his DNA. Anyone that has ever seen one of his concerts will be quick to tell you that there is no one better. Comedy Central agrees, having named Mohr one of the 100 greatest stand-up comics of all time. A simple bio doesn't do the stage show justice... as there are no notes, no two shows the same, and an act that never picks on the audience. These are the three tenets that Jay believes makes great live comedy, and the foundation is laid when Jay often tells his audiences, "Lets just jump off a cliff together and build our wings on the way down!"
Advertisement
Links: http://liquidboise.com

Age Group: 21+

Venue: Liquid Laughs Comedy Club

Address:
405 S. 8th street BOISE, ID 83702
Get Directions
Phone: (208)287-5379