Event Detail
Back to Events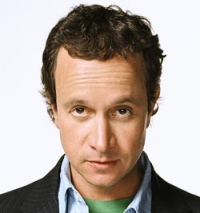 Art :: Comedy
Headliner: Pauly Shore
10:00 PM
Liquid Laughs Comedy Club
Description:

Pauly Shore tasted super-stardom in 1990 when his precedent-setting MTV show "Totally Pauly" hit the airwaves to major fan approval. The show ran for six years, leading him to numerous TV and film roles, including the one-hour HBO TV special, "Pauly Does Dallas" and starring in films like "Jury Duty," "In the Army Now," "Bio Dome," and those that are currently trending on Netflix, "Encino Man," "Son In Law," and "The Goofy Movie."
After his first album, "The Future of America," was named Best Comedy Album by the College Music Journalists in 1991, the National Association of Record Merchandisers nominated his second album, "Scraps from the Future," for a Best Sellers Award.
Pauly then went on to star in and produce his own projects, including "Pauly Shore is Dead" for 20th Century Fox, which is now available on Amazon Prime. He also produced and starred in his comedy specials "Vegas is My Oyster," starring Andy Dick, Tom Green, Bobby Lee and more, and "Pauly-Tics," starring Herman Cain, Larry King and more, all available on Crackle.

Most recently, Pauly released "Pauly Shore Stands Alone," a true-life road documentary that follows him as he performs in obscure towns throughout Wisconsin while dealing with his personal life back home, which also appeared on Showtime and is available on Amazon Prime.

Additionally, Pauly released a series of video interviews on Crackle in May 2017 for the "Pauly Shore Podcast Show." His guests include: Judd Apatow, Iliza Shlesinger, Ziggy Marley, Brett Ratner and many more. Pauly also has a weekly podcast called "Pauly Shore's Random Rants" which you can find on Soundcloud, iTunes and Stitcher.

Apart from actively touring the country with his standup, Pauly is working on a documentary of his life that spans the 1970s, '80s and '90s and has a role in the upcoming Adam Sandler movie 'Sandy Wexler' streaming on Netflix in 2017. He is currently in production for a Funny or Die sketch he co-wrote called "Silver Lake Vice Squad" and is also cutting a documentary series based off his 2014 film "Pauly Shore Stands Alone."
Advertisement
Links: http://liquidboise.com

Age Group: 21+

Venue: Liquid Laughs Comedy Club

Address:
405 S. 8th street BOISE, ID 83702
Get Directions
Phone: (208)287-5379